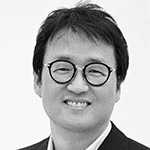 Alex Ok
President, Forever 21
Location: Los Angeles
Member Since: 2014
Alex Ok has played an integral role in making Forever 21 one of the most recognizable apparel retailers worldwide. Beginning in 2002, Alex has helped lead the company from 117 stores to over 600 stores worldwide and over 40,000 employees. With his guidance, Forever 21 has grown into a leading fashion empire, opening department store locations carrying a wide range of merchandise for women, men, and children.
Alex Ok grew up in Busan, Korea where he graduated from high school and soon moved to Seoul, Korea to further his education and graduate from Seoul National University with a major in Economics.
In 1987, Alex immigrated to Los Angeles to pursue a career in apparel manufacturing where his entrepreneurial predisposition would prosper. Shortly after moving to the United States, he founded and served as CEO of a women's apparel manufacturer, One Clothing. Under his leadership, One Clothing grew to become a $100 million business.
In 1989, Alex entered into a successful partnership with Mr. and Mrs. Chang when they had just seven Forever 21 stores and quickly became one of Forever 21's largest suppliers.
By 2002, one year after Forever 21 opened its first 25,000 square foot store, "XXI Forever;" Alex Ok joined forces with Mr. and Mrs. Chang as Executive Vice President overseeing merchandising.