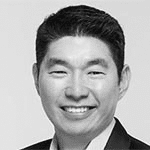 Alex J. Kim
Managing Director,
Old Mills Partners
Location: San Marino, CA
Member Since: 2017
Alex J. Kim is a Managing Director of Old Mill Partners and an investor and entrepreneur actively involved in the U.S. and the Asia-Pacific region, including China, Hong Kong, and South Korea. He has founded and operated companies in a variety of sectors, including asset management, energy & power, outdoor media and specialty retail. In addition, he has significant M&A, private equity and distressed investment experience spanning a number of industries, including media, technology, financial services, and industrials.
Previously, Alex was a founding member and Managing Director of Kang & Company, Ltd., a pan-Asian private equity firm with offices in Beijing, Hong Kong and Seoul. While there, he led the IPO of NAIC, an investment vehicle previously listed on the American Stock Exchange, and also served as its CFO. He began his career at Goldman Sachs in the Financial Institutions M&A Group in New York where he advised commercial banks, insurance companies and asset managers. Alex was also a member of the firm's Asian Special Situations Group in Hong Kong, where he focused on distressed investments in China, South Korea, and Southeast Asia.
Alex graduated from Harvard University with an A.B. degree cum laude in History and Science (American history and biochemistry).