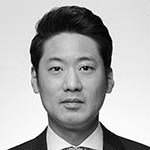 Adlar Jeewook Kim
Principal, RoivantNEXT,
Roivant Sciences, Inc.
Location: New York
Member Since: 2017
Adlar Jeewook Kim, Ph.D. – Dr. Kim is a Principal at Roivant Sciences, a global healthcare company. At Roivant, he is responsible for building data analytics business in healthcare space. Prior to Roivant, he spent over 17 years in Quantitative Finance field in academia and industry combined. He was a Senior Quantitative Strategist at Magnetar Capital LLC, a multi-strategy hedge fund. Prior to Magnetar, he was at JP Morgan's quantitative research group, and a postdoctoral associate in the Laboratory for Financial Engineering at the Massachusetts Institute of Technology (MIT). He received his PhD degree in Computer Science with focus in Financial Engineering from MIT, BS and MS degrees in Computer Science and Economics from Carnegie Mellon University. He has published numerous research articles in prominent academic journals including the Journal of Banking and Finance and the Journal of Marketing Research.