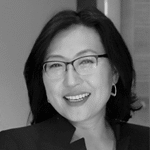 So Yong Park
Board Member, Colorado College, Korean American Community Foundation – San Francisco
Metro Region: San Francisco Bay Area
Member Since: 2023
So Yong Park is the former director of corporate development at The Tech Museum of Innovation in San Jose, California. With a strong background in software marketing in Silicon Valley, So Yong transitioned her career into the nonprofit sector, driven by her passion for service to the community.
In 2014, So Yong helped to found the Korean American Community Foundation-San Francisco (KACF-SF) alongside dedicated friends. KACF-SF endeavors to raise awareness of pressing needs and issues, promote self-sufficiency, and cultivate a culture of philanthropy within the Korean American community. Through strategic grant-making initiatives, KACF-SF supports and empowers local organizations in San Francisco while advocating for greater awareness and solutions to the community's challenges.
Beyond her contributions to KACF-SF, So Yong currently serves as a Trustee of The Colorado College in Colorado Springs, and serves on the Endowment and Finance Committees. She also serves as board member of the Foothill/DeAnza Community College Foundation, focusing on service to the underserved and underrepresented populations. Previously, she served as a board member of the Mountain View Los Altos High School Foundation and the Parents Club of Stanford.