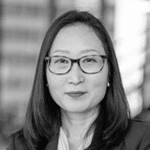 Eun Ah Choi
Senior Vice President – US Head of Listing Qualifications and Market Surveillance, Nasdaq
Metro Region: Virginia
Member Since: 2023
Eun Ah Choi serves as Senior Vice President, Regulatory Operations at Nasdaq. She heads the U.S. Listing Qualifications, MarketWatch, and Options Surveillance teams. In her role, Eun Ah is responsible for assessing the qualification of listed companies and continued compliance review with Nasdaq's comprehensive listing standards. She also manages Nasdaq's surveillance program over equities and options markets to maintain an orderly marketplace and level playing field for investors, market participants, and listed companies.
Eun Ah has over 25 years of experience through her work in private practice and public service, focusing on capital markets, securities regulation, corporate law, and market risk monitoring. As former in-house counsel at Willis Towers Watson and Northrop Grumman, she has in-depth experience leading complex projects and managing legal matters related to domestic and international M&A, antitrust, venture capital, and strategic alliances.
Eun Ah also served as a senior executive at the Securities and Exchange Commission, overseeing a wide range of business operations and regulatory policy initiatives, as well as risk monitoring and data analytics related to the asset management industry. Prior to joining the SEC, Eun Ah was a partner at Hogan Lovells, where she represented publicly and privately held companies, boards of directors, and investment banks in a broad range of securities law matters, capital raising transactions, M&A, and corporate governance topics. She started her career on Wall Street at Goldman Sachs.
Eun Ah received her Bachelor of Science in International Economics and Juris Doctor, magna cum laude, from Georgetown University. She also studied Philosophy, Politics, and Economics at the University of Oxford.