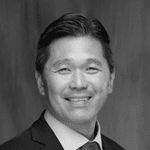 Brian Hoh
Chair & Professor of Neurosurgery, University of Florida
Metro Region: Florida
Member Since: 2023
Brian Hoh, MD, MBA, is Professor and Chair of the Department of Neurosurgery at the University of Florida. Dr. Hoh is a cerebrovascular and endovascular neurosurgeon with clinical expertise in treating patients with brain aneurysms, brain AVMs, and ischemic and hemorrhagic stroke.
His research focus is studying why brain aneurysms form and rupture, how brain injury and stroke occurs from the bleeding caused by a brain aneurysm that has ruptured, and improvements in devices to treat brain aneurysms. He also is a principal investigator of clinical trials to study better treatments to prevent stroke in patients.
Dr. Hoh is a national leader in neurosurgery. He is previous President of the Congress of Neurological Surgeons, the largest international professional society for neurosurgeons.
Dr. Hoh graduated with a bachelor of arts and sciences from Stanford University, MD from Columbia University, and residency and fellowship from Harvard University at Massachusetts General Hospital. He graduated with an MBA from the University of Florida.