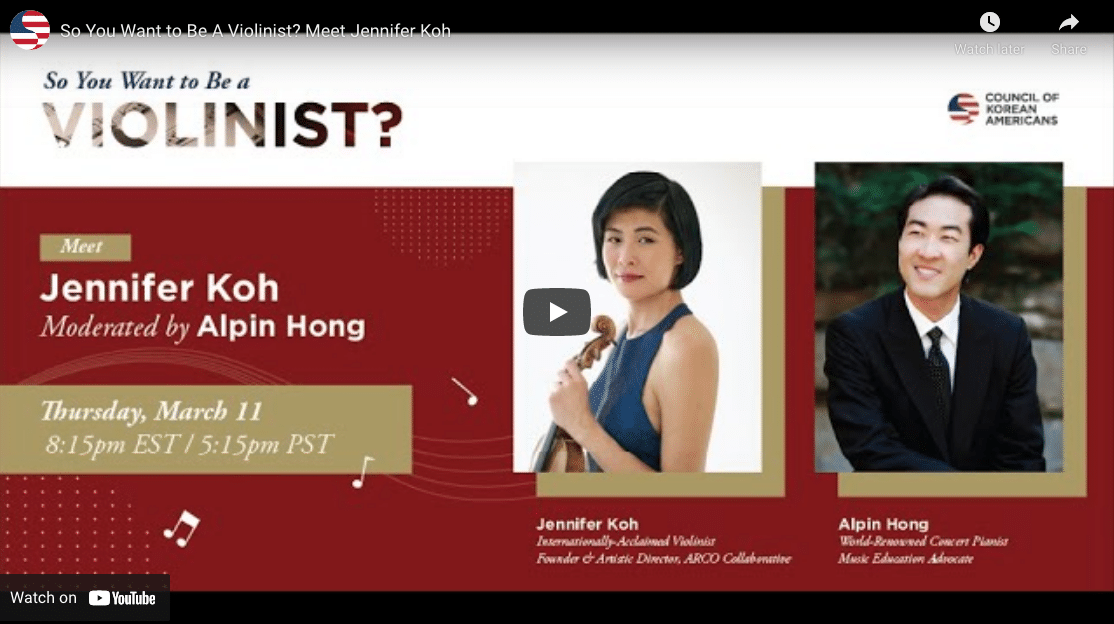 So You Want to Be A Violinist? Meet Jennifer Koh
On Thursday, March 11, CKA invites you to join us for a speaker event with Internationally-Acclaimed Violinist and Founder & Artistic Director of
ARCO Collaborative
, 
Jennifer Koh.
On top of her incredible performances, Ms. Koh is widely recognized for her work in promoting diversity and inclusivity in the realm of classical music.
Come attend an in-depth conversation with Jennifer Koh as she shares about her Korean American Chicago upbringing, her extensive musical career and accomplishments, her leadership in advocating for inclusivity in classical music, and her recent projects to bridge the Korean & Black community.
The discussion will be moderated by World-Class Concert Pianist and Music Education Advocate Alpin Hong. The event will also feature a Q&A session towards the end.
CKA's affinity groups are made possible through a partial grant by the Korea Foundation.
---
So You Want to Be A Violinist? Meet Jennifer Koh
Thursday, March 11 
5:15 PM Pacific / 8:15 PM Eastern 
This event is open to the public, please share with friends and family.
---
Meet these Korean American Classical Musicians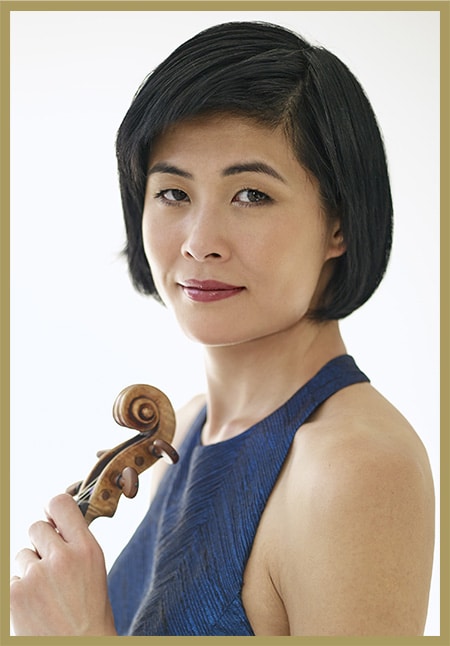 Jennifer Koh
Internationally-Acclaimed Violinist Founder & Artistic Director, ARCO Collective
Jennifer Koh is recognized for her intense, commanding performances, delivered with dazzling virtuosity and technical assurance. Ms. Koh's series include
 Alone Together
, an online performance series in support of composers during the coronavirus crisis;
The New American Concerto
, which invites a diverse collective of composers to examine socio-cultural topics through the form of the violin concerto; 
Limitless
; 
Bach and Beyond
; and 
Shared Madness
. Ms. Koh has appeared with orchestras across the world. She is an active lecturer, teacher, and recording artist for Cedille Records; and is the Artistic Director and Founder of the non-profit arco collaborative.
Read more about Jennifer Koh here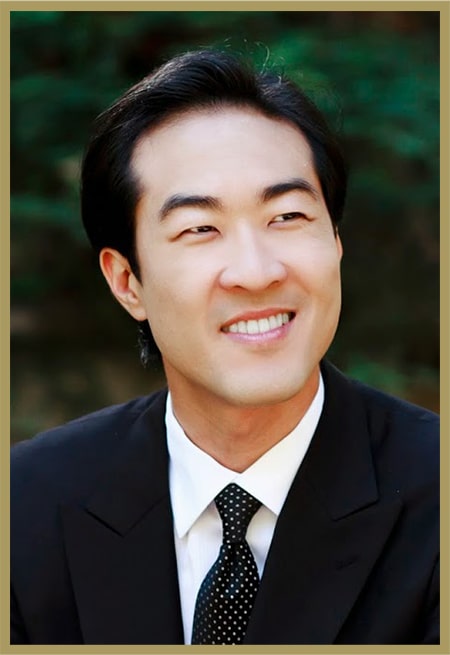 Alpin Hong (Moderator)
World-Renowned Concert Pianist and Music Education Advocate
Whirlwind American tours and performances across the globe have earned pianist Alpin Hong the reputation as a modern-day Pied Piper. From Walt Disney Hall to the White House, his combination of stunning technique, emotional range, and rare humor continues to bring audiences young and old to their feet. Rooted in extensive classical training and a background in extreme sports, martial arts, and video games, Mr. Hong is a creative force unmatched in his vitality and charisma. In addition to his musical talents, Mr. Hong is an internationally renowned speaker and host. His message of artistry, tolerance, and service knits communities together in a spirit of common humanity. Read more about Alpin Hong here
Neither this webinar nor any other materials or programs offered by CKA is endorsed or sponsored by or affiliated with webinars, conference events, leadership training/career development programs, and other diversity awareness efforts that are offered by Jane Hyun & Hyun & Associates Inc. Bamboo Ceiling is a registered trademark of Hyun & Associates.