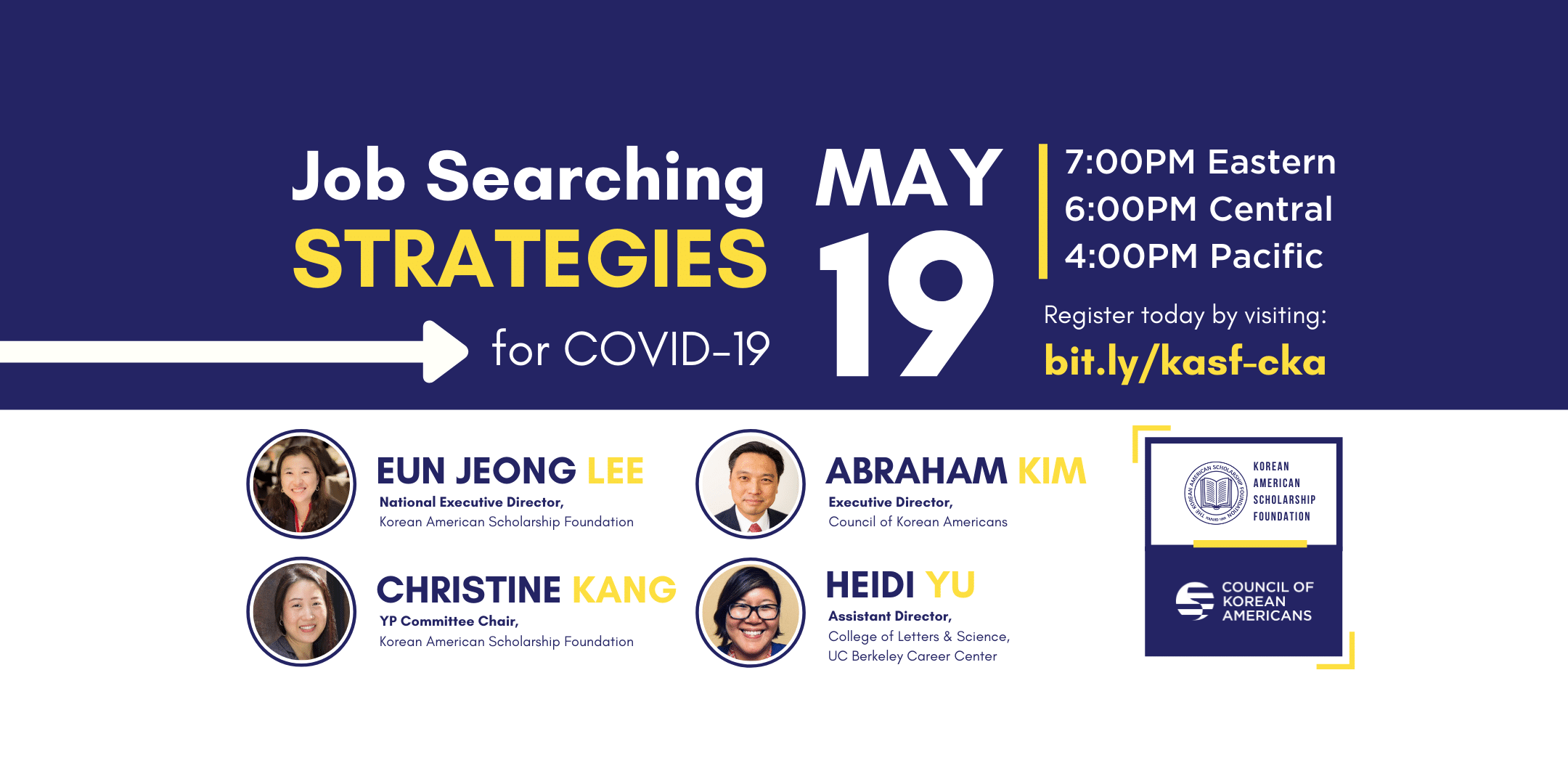 Job Searching Strategies for COVID-19 – A Student's Guide
Job Searching Strategies for COVID-19: A Student's Guide
If you are a college student or recent graduate that is anxious or struggling to secure jobs in the months following graduation, we have good news!
CKA partnered with the Korean American Scholarship Foundation (KASF) to launch the webinar, "Job Searching in a COVID-19 World," because we want to provide reassurance, inspiration, and connection. By the end of the summer, our aim is to help our young folks become more mentally resilient and prepared for the new world.
The webinar took place on Tuesday, May 19 (7 pm EDT, 4 pm PDT). The webinar was a free and public event for all students. We wanted to provide key insights into the employment process, virtual interviews, and changes to how employers approach potential applicants in the wake of COVID-19. We discussed changes to the job search experience, do's and don'ts for the summer, and how we can stay on our toes to best prepare.
Featured Speakers:
Heidi Yu, Assistant Director, College of Letters & Science, UC Berkeley Career Center
Eunjeong Lee, Executive Director, Korean American Scholarship Foundation
Christine Kang, YP Committee Chair, Korean American Scholarship Foundation
What We Covered:
Changes to employment processes, interviews, and how employers are planning to approach potential applicants during COVID-19.
Changes in the job search experience and insights into the virtual interview experience.
To-Do List for the Summer (Resume, CV, LinkedIn, Networking).
Don't-Do List (How to manage anxiety and uncertainty during this time).