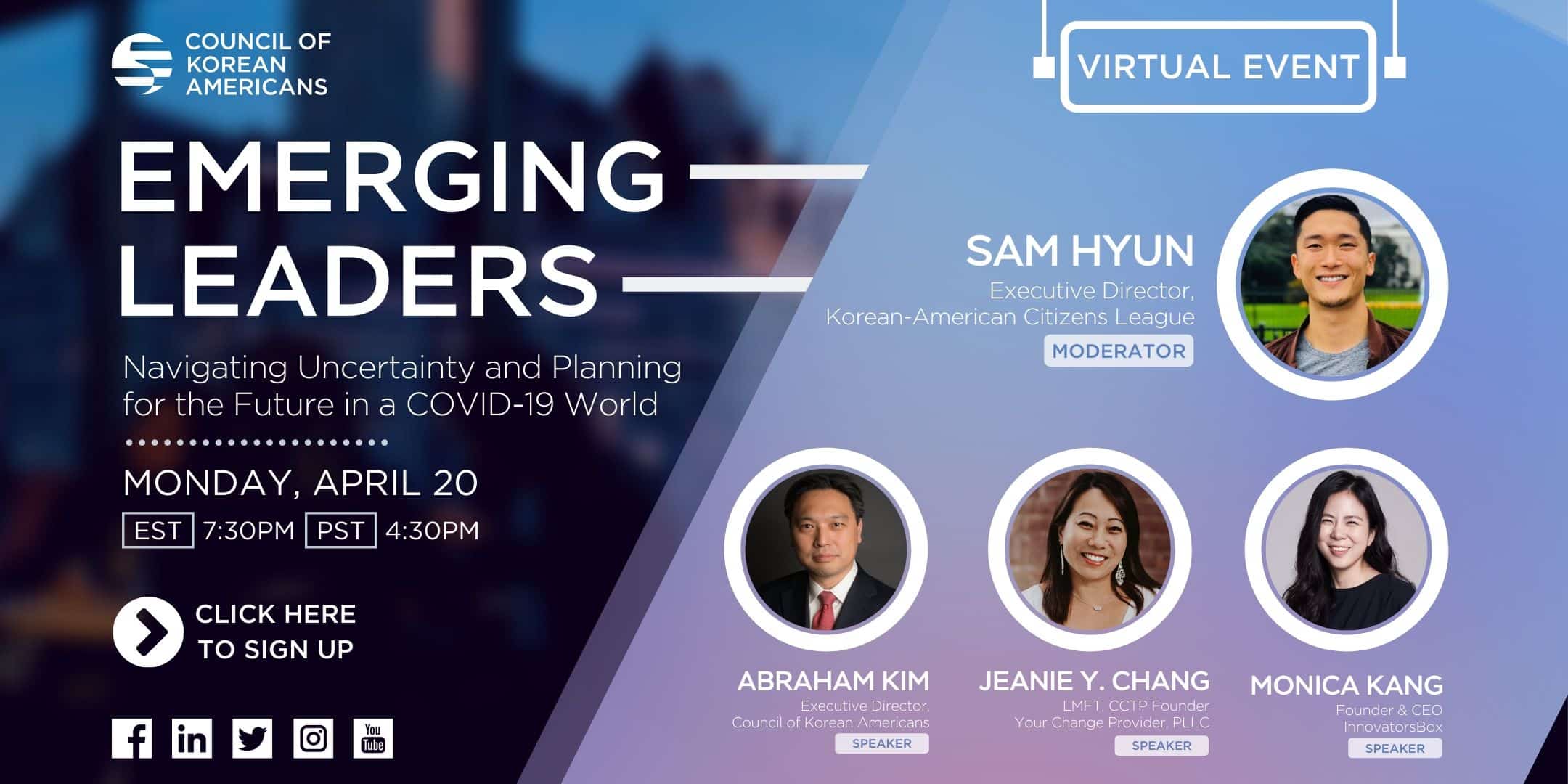 Emerging Leaders Webinar: Navigating Uncertainty and Planning for the Future in a COVID-19 World
Whether you are a student or a professional, the COVID-19 crisis has disrupted all of our lives. However, this does not mean we have to become stuck from all of the uncertainties. If you are a college student or recent graduate, come join us for a free webinar panel on Monday, April 20 (7:30 PM EDT) with Korean American leaders who specialize in helping both students and emerging current and emerging professionals navigate change and disruption.
As leaders and teachers, CKA understands your situation and is here to help! Now is the time to prepare and adapt yourself to new practical learning for a new future. Our panel will address topics including: coping with stress and anxiety, honing in new skills, and building relationships.
Featured speakers include:
Monica Kang, Innovation and Leadership Coach and Founder & CEO of InnovatorsBox
Jeanie Chang, Licensed Mental Health Clinician, Corporate Coach and Wellness Expert, and Founder of Your Change Provider, PLLC
Abraham Kim, Leadership Coach and Executive Director of the Council of Korean Americans
Samuel Hyun (Moderator), Executive Director of Korean-American Citizens League and Massachusetts Asian-American Commissioner
The Emerging Leaders Webinar is an important step for young leaders toward managing the uncertainty caused by the COVID-19 pandemic. You can learn more about the webinar by watching this video. If interested in attending.