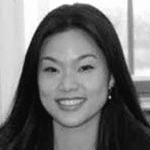 Pearl Kim
Senior Deputy Attorney General,
Pennsylvania Office of Attorney General
Location: Pennsylvania
Member Since: 2017
Pearl Kim was recently appointed to the Pennsylvania's Office of Attorney General as a Senior Deputy Attorney General. Kim serves in the Executive Office under the newly formed Office of Public Engagement launched by Attorney General Josh Shapiro. Formerly an Assistant District Attorney in the Delaware County District Attorney's Office, Ms. Kim was Chief of the Human Trafficking Unit in the Special Victims and Domestic Violence Division.
Ms. Kim was appointed to serve on the Joint State Government Commission's Advisory Committee on Human Trafficking and to report back to the PA Senate any recommendations for changes in state law, policies, and procedures. Ms. Kim secured the first trafficking of persons conviction under Pennsylvania's trafficking statute and was a faculty member for the 2012 Institute on the Prosecution of Human Trafficking.
In 2012, Governor Corbett appointed Pearl Kim to the Governor's Advisory Commission on Asian American Affairs, and she serves on the Board of Directors of the Asian Pacific American Bar Association of Pennsylvania. The Legal Intelligencer has recognized Ms. Kim as one of the 2011 Lawyers on the Fast Track, as one of the 2011 Diverse Attorneys of the Year, and as one of the 2012 Women of the Year. The American Bar Association awarded Ms. Kim the Norm Maleng Minister of Justice Award for her efforts as a special victims prosecutor, and she was the recipient of the Government Attorney of the Year Award by the Pennsylvania Bar Association in 2015. Ms. Kim obtained her J.D. from Villanova University School of Law where she was the recipient of the Villanova Achievement Scholarship, and received her B.A. from Bryn Mawr College.