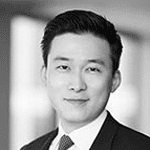 Chang Lim
Associate,
Knobbe Martens LLP
Location: Los Angeles
Member Since: 2017
Chang Lim is a patent attorney at Knobbe Martens LLP, one of the largest intellectual property law firms in the country. He focuses his practice on patent counseling and protection of electronics and software technologies.
Chang graduated from University of California, Berkeley with a B.S. in Electrical Engineering and Computer Science and earned his J.D. from Cornell Law School. He is a member of the Orange County Korean American Bar Association (OCKABA) and is the current president-elect.
In his spare time, Chang enjoys participating in obstacle course races, reading, and playing golf.