Emerging Leaders Webinar: Navigating Uncertainty and Planning for the Future in a COVID-19 World
Date Published: April 20, 2020
Today, the Council of Korean Americans teamed up with Ignite NextGen to bring college students, recent graduates, and young professionals a special webinar to help them navigate the current professional world during this COVID-19 climate. Even though this crisis has impacted all of our lives in one way or another, that doesn't mean we have to stay paralyzed by all of the uncertainties. 
As Korean American leaders and teachers, we understand your situation and want to help. 
Now is the time to prepare and adapt yourself with new practical learning for a new future. Even if you are not graduating for a few years, getting ready now with important skills will put you far ahead of your peers.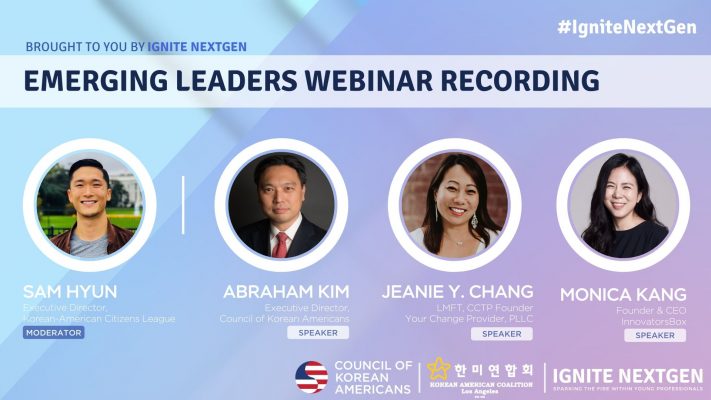 Experiencing anxiety and stress because the COVID-19 pandemic has interfered with your summer internship or school plans? Wondering how the current crisis will reshape the future job market? Watch the full webinar on our Facebook Page and see how the discussion can benefit you! Click here to watch the Facebook Live
This webinar was brought to you by CKA through the generosity of its listeners. Consider a donation today so that we can continue to provide you with knowledge and news to keep our community informed.