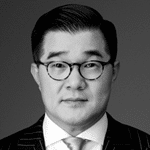 T. James Min II
Partner,
LimNexus LLP
Location: Ohio
Member Since: 2013
T. James Min II, is a Partner with the law firm of LimNexus LLP in their Washington DC office. Mr. Min specializes in international trade law including customs, export controls, economic sanctions, CFIUS, free trade agreements, WTO, internal corporate compliance, internal investigations, anti-bribery laws, etc. Previously, Mr. Min was the Vice President and Chair of the International Trade Law Practice for the Deutsche Post DHL Group where he advised all DPDHL business divisions operating in over 220 countries and territories on international trade law matters. Prior to DHL, Mr. Min practiced international trade law with the FedEx Express Corporation, a private law firm in New York City, U.S. Treasury, U.S. Homeland Security and the U.S. Department of Commerce in Washington DC.
Mr. Min was previously appointed a private sector trade adviser to the U.S. Government during the Bush Administration and has also advised the governments of Russia, Ukraine, Moldova, UAE, Lebanon, Arab League nations, CIS countries, as well as the WTO, WCO, European Commission, and the UN on international trade law matters.
Mr. Min has served on multiple non-profit boards including the Red Cross, Northern Kentucky International Trade Association, The International Air Cargo Association as well as previously the Chairman and Board member of a US-based NGO operating in North Korea since 1997. He is a member of and the legal advisor for the U.S. National Committee on North Korea. Mr. Min was commissioned a Kentucky Colonel by Governor Steven Beshear in 2012. He is currently a Board member of Korean Americans in Action as well as a Board member of the Greater Cincinnati Foreign Trade Zone, Inc. Mr. Min is a nonresident fellow of The Center for International Trade & Security at The University of Georgia. Mr. Min is a member of the Republican National Lawyers Association and the Federalist Society.
Mr. Min obtained his B.A., M.A., and J.D from The Johns Hopkins University and The American University in Washington, DC. He also studied at The Moscow State Linguistics University and Seoul National University.
Mr. Min and his family reside in Mason, Ohio.
[Mr. Min does not participate in any of CKA's activities related to North Korea and does not necessarily endorse or agree with any of CKA's positions or policies on North Korea].