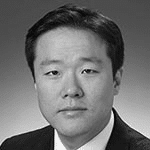 Samuel S. Kim
Vice Chairman,
Morgan Stanley
Location: Hong Kong
Member Since: 2016
Samuel S. Kim is currently a Vice Chairman at Morgan Stanley based in Hong Kong. Mr. Kim plays an important leadership role in the Firm's investment banking business and is a member of the Firm's key strategic and operational committees.
Previously, Mr. Kim was Head of the Mergers & Acquisitions department for Asia, responsible for overseeing the Firm's advisory assignments throughout the region. Under his leadership, Morgan Stanley achieved leading market share in M&A and advised on some of the largest and most high-profile transactions across Asia, earning numerous awards and recognition. Mr. Kim was also the Chief Operating Officer for Investment Banking in Asia and also worked in the Technology Mergers & Acquisitions department in Menlo Park, California.
Mr. Kim has been with the Firm for 18 years and in the industry for over 20 years.
Before Morgan Stanley, he worked in the Mergers & Acquisitions and Financial Sponsors departments at Salomon Brothers Inc in New York and London.
During his career, Mr. Kim has worked on many landmark M&A transactions and has advised many of the leading corporations, financial sponsors and governments throughout the world.
Mr. Kim received his Bachelor of Science Degree in Industrial Engineering from Stanford University.