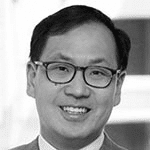 Patrick Kim
Partner,
Williams & Connolly, LLP
Location: Washington, DC
Member Since: 2013
Mr. Kim was born in Seoul, Korea, and grew up in Bloomfield Hills, Michigan. Mr. Kim received his B.A in English and philosophy with high distinction from the University of Michigan in 1993, and his J.D., cum laude, from Harvard Law School in 1997. Mr. Kim spent five years at McKinsey & Company in New York, where he was a management consultant specializing in corporate finance, mergers and acquisitions, and joint ventures across several industry sectors, including financial institutions, media, and retail. He joined Williams & Connolly LLP in 2002.
Patrick Kim represents clients in a broad range of complex civil litigation. He has extensive experience representing financial institutions across a range of matters, as well as other public and private companies involved in financial, accounting, and securities-related litigation. Mr. Kim also has significant experience in conducting internal investigations for clients, and in defending clients who are under investigation by a variety of investigating authorities, including U.S. Attorneys' Offices, various branches of the Department of Justice, the Securities Exchange Commission, several Inspector General offices, Financial Industry Regulatory Authority, and state attorneys general.
Mr. Kim's civil litigation experience includes the representation of a variety of financial institutions and investment funds, including several of the largest global banks and private equity and hedge funds, in a wide range of complex commercial litigation matters. Mr. Kim frequently has represented acquirers, targets, and financial institutions in litigation over mergers and acquisitions. He also has extensive experience in professional liability defense, and has represented law firms and accounting firms facing professional liability and securities claims.