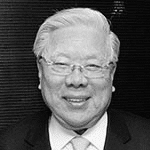 Myung Ki Hong
Founder,
Dura Coat Products, Inc.
Location: Los Angeles
Member Since: 2016
Dr. Hong came to the United States from South Korea in 1954 as an exchange student, and graduated from UCLA with a degree in chemistry in 1959.
Renowned for his expertise in resin and coatings, Hong founded Dura Coat Products, Inc. in 1986, where his first product breakthrough was a water-based formulation that was both effective and eco-friendly. In addition to facilities in California and Alabama, the company distributes its technology through licensing agreements with companies all around the world.
Hong is deeply involved with philanthropic and civic causes in Southern California. After the civil unrest in Los Angeles in 1992, he committed himself to promoting community harmony by promoting a better understanding of cultural diversity. He served as chairman of a foundation dedicated to preserving the memory of Dosan Ahn Chang Ho, one of the early leaders of the Korean-American immigrant community. In this capacity, Hong oversaw fundraising efforts, construction, installation and dedication of the Dosan Ahn Chang Ho statue in Riverside in 2001.
In 2002, Hong established the Bright World Foundation, based on a translation of his Korean name, Myung Ki ('bright place'), to foster a sense of optimism in the world and inspire the human spirit.
He received an honorary doctorate for Humanitarian Services from La Sierra University in 2002 as well as an honorary doctorate in Science from Sam Yook University in South Korea in 2014.