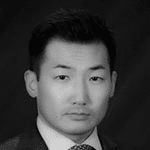 Matthew Kroehler
Senior Vice President,
Wells Fargo Advisors LLC
Location: Washington, DC
Member Since: 2017
Matthew is an investment manager with Wells Fargo working with private investors, trusts, and closely-held businesses focusing on hedge funds, private equity, and real estate LPs.
Matthew was born in South Korea and served in the United States Marine Corps, stationed at Camp Pendleton and Twenty Nine Palms, CA. Previous professional experiences include Vice President at Morgan Stanley and Financial Analyst/Assistant Buyer with the May Company. He is an annual participant in the 4Deserts races, a series of ultra-marathons held in major deserts throughout the world and is actively involved with the National Council for Adoption, NYC Shiba-Inu Rescue, and serves on the National Cherry Blossom committee.
Matthew currently lives and works in Washington, DC.