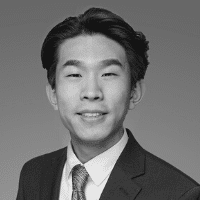 Kevin Koo
Community Engagement Associate
Council of Korean Americans
Location: Washington, DC Metro
Kevin Koo is a Community Engagement Manager at the Council of Korean Americans (CKA). Kevin works closely with the Executive Director and Senior Director to educate and empower Korean Americans on national issues as well support ongoing leadership development programs.
Outside of CKA, Kevin serves on the Board of Directors for the East Coast Asian American Student Union, or ECAASU. During his time at ECAASU, Kevin has led and overseen the organization's advocacy initiatives and developed numerous advocacy-based workshops for Asian Pacific Islander American student organizations across the East Coast.
Kevin is a second-generation Korean American born and raised in Long Island, NY. He received a B.S. in Biochemistry from Tufts University, where he served as co-president of the Tufts Asian Student Coalition, Community Engagement Chair of Korean Student Association, and as a council representative of the Pan-Asian Council. He currently lives in Arlington, Virginia.