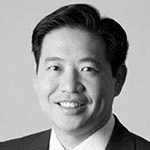 Kevin D. Kim
Commissioner of the New York State Liquor Authority,
The State of New York
Location: New York
Member Since: 2016
On June 20, 2014, the New York State Senate confirmed Governor Andrew Cuomo's appointment of Kevin Kim as a Commissioner of the New York State Liquor Authority (SLA). He is the first Asian American to serve in this role. Kevin is also an entrepreneur and business owner bringing a mental math program into NYC public schools. His other professional experiences include having worked as a federal law clerk to Judge Denny Chin (SDNY), corporate attorney at Davis Polk & Wardwell, Deputy Director of Community Affairs for Congressman Gary L. Ackerman, and becoming the first Korean American to win a NYC primary election (2009 Democratic nominee for NYC Council – District 19).
Kevin's extensive community involvement includes past non-profit Board service for Friends of Thirteen, Inc., American Red Cross (Queens), Korean American Lawyers Association of Greater New York, and Community Board 5 (Manhattan). He currently serves on the Board of Directors of the Korean American Community Foundation (KACF) and the International Student Conference. In 2015, NECO named Kevin as one of its 2015 Ellis Island Medal of Honor recipients in recognition of his long-time community service.
Kevin is a graduate of Stanford University (B.A. and M.A), and received his J.D. from Columbia Law School, where he was a member of the Columbia Law Review.