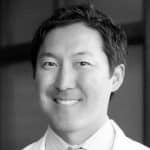 Jeffrey Roh
CEO & Board Chair,
IntuitiveX
Location: Seattle
Member Since: 2019
Dr. Jeffrey Roh is the Chief Executive Officer & Board Chair of IntuitiveX, a life science incubator created to help entrepreneurs and startups transform their ideas into products and services that scale into businesses which help patients lead healthier, more productive lives.
He is a board-certified, award-winning specialist in minimally invasive spine surgery. Dr. Roh is the Director of Minimally Invasive Spine Surgery at the Swedish Neuroscience Institute in Seattle, Chairman of Swedish Hospital's Integrated Spine Program, and Member of the Arthritis Foundation's Leadership Board of Directors in Washington state. He is actively involved in key strategic initiatives centered on excellence in clinical care, optimization of patient satisfaction, and value-based healthcare delivery.
Dr. Roh serves on the advisory board of the Buerk Center for Entrepreneurship at the University of Washington's Foster School of Business, as a mentor and advisor for the Jones + Foster Accelerator and UW's technology transfer office, CoMotion, and as a judge for the annual Dempsey Startup Competition and the Holloman Health Innovation Challenge (HHIC). Dr. Roh and IntuitiveX were proud sponsors of the HHIC first place prize in 2019.
He received his Bachelor of Science degree from the University of Washington, his Medical Degree from the Medical College of Wisconsin, his orthopedic surgery residency at Case Western Reserve University and his complex and minimally invasive spine surgery fellowship at Weill Cornell Medicine's world-renowned Hospital for Special Surgery in NYC. Dr. Roh is a graduate of the Michael G. Foster School of Business MBA program at the University of Washington and completed a Masters of Science in Technology Management program at Columbia University in NYC.