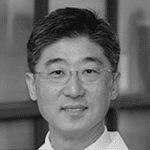 Dr. Jeffrey Choh
President,
PUST DMS Foundation
Location: Chicago
Member Since: 2017
Jeff Choh is the current President of the PUST DMS Foundation, a 501(c)(3) US organization providing support to the Pyongyang University of Science & Technology (PUST) Division of Medical Sciences (DMS) located in Pyongyang, DPRK. PUST DMS is dedicated to educating future healthcare providers of North Korea to positively impact the healthcare system within DPRK. Dr. Choh has delivered medical lectures and has performed medical procedures in DPRK since 2013. Upon request of the DPRK government, PUST is now developing a medical sciences program at the university which will include colleges of dentistry, medicine, nursing, pharmacy and public health.
Jeff completed his Bachelor of Science in Mathematics and earned his Medical Doctorate at The Ohio State University. He completed his residency in Diagnostic Radiology at the University of Illinois at Chicago. His training was completed with a fellowship in Vascular and Interventional radiology at The Cleveland Clinic Foundation. He is currently the Director of Interventional Radiology and Interventional Oncology services at the Cancer Treatment Centers of America located outside of Chicago, IL.
Jeff is married to Ann. They have three grown daughters.