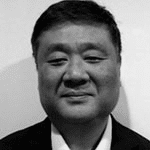 David Y. Lee
Founder and President,
Jamison Services, Inc.
Location: Los Angeles
Member Since: 2014
Dr. David Y. Lee is founder and President of Jamison Services, a privately managed company engaged in ownership, management, development and acquisition of commercial real estate. Headquartered in Los Angeles, it manages and leases over 100 commercial buildings comprising 22 million square feet.
Born in Korea, Dr. Lee came to the U.S. at age 17. He trained in internal medicine at Northwestern University, but began investing in real estate after the LA Riots, or Saigu, in 1992. Jamison is now one of the top three commercial-office landlords in Southern California. With a market capitalization of $3 billion, Jamison continues to expand by actively pursuing commercial real estate in the Los Angeles market.