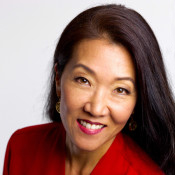 Location: Los Angeles
Member Since: 2016
May Lee
Correspondent
CGTN America
May Lee has been working in the media and communication space around the world for more than 25 years. She is a successful television, radio and online media journalist who has worked as a correspondent, anchor, host and executive producer for major networks and media institutions.
May was the first Korean American anchor for CNN, co-host of Oprah Winfrey's women's network Oxygen Media and main anchor at CNBC Asia. As a correspondent, May has covered some of history's most momentous events including the 1997 Handover of Hong Kong, the 911 attack in New York City and several U.S. Presidential elections.
In 2007, May founded Lotus Media House, LLC, a media production and consulting company. It successfully launched "The May Lee Show", the first pan-Asia talk show for the modern woman of Asia. Lotus Media House also specializes in helping businesses and individuals shape and build powerful and effective communication strategies as well as providing media training and production services.
Past clients include PricewaterhouseCoopers Asia, Shanghai Tang, CJ Media, MediaCorps, Transpacific IP, Standard Chartered Bank, Jax Coco and Global Bionic Optics.
May authored the book, "May Lee, Live and in Person. It all begins with Passion" published by John Wiley & Sons. A Korean version of the book was published by Random House Korea.
May has a B.A. in Communications from Mills College. One of her passions is traveling the world. She has, so far, visited 51 countries and she's just getting started.