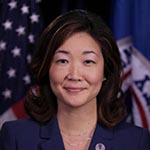 Location: Washington, DC Metro
Member Since: 2016
Membership Type: Full
Juliet Choi
Director of Government Transformation and Agency Partnerships
Partnership for Public Service
In April 2017, Juliet K. Choi joined the Partnership for Public Service, a nonprofit, nonpartisan organization that strives for a more effective federal government for the American people, and serves as the Director of Government Transformation and Agency Partnerships.
A cross-sector leader and civil rights lawyer by training, Juliet most recently served as a senior executive and political appointee in President Obama's administration. From 2014 to 2017, she was appointed as chief of staff and senior advisor at the Department of Homeland Security's U.S. Citizenship and Immigration Services (USCIS), the world's largest immigration agency with a workforce of about 20,000 employees and nearly 250 offices globally. From 2011 to 2014, Juliet was appointed chief of staff and senior advisor for the Office for Civil Rights, U.S. Department of Health and Human Services. Her areas of responsibility included civil rights policy, intra-HHS coordination, legislative and intragovernmental affairs, outreach and stakeholder relations.
From 2006 to 2011, Juliet worked with the American Red Cross Headquarters, serving as a member of the Disaster Services executive leadership team in the capacity of senior director for disaster partnerships. She led national disaster relief operations and served as the principal in charge for overseeing its national strategy for diverse and inclusive private sector partnerships and administrative management of the nation's premiere disaster case management technology consortium. Under her leadership, she helped to steward critical new partnerships with several groups including the Bank of America, Legal Services Corporation, National Baptist Convention USA, National Disability Rights Network, Tzu Chi Buddhist Foundation and Y-USA.
From 2004 to 2006, Juliet served at the Asian American Justice Center as the inaugural NAPABA (National Asian Pacific American Bar Association) Partners Community Law Fellow and staff attorney. She focused her legal and policy expertise on Title VI and language access with an emphasis on health care, disasters, and the courts. Her efforts led to amending the Robert T. Stafford Disaster Relief and Emergency Assistance Act to protect limited English speakers.
Before her legal career, her portfolio included seven years with the corporate division of Gannett Broadcasting (1992-1999) and subsequently as policy director with the National Mental Health Association (1999-2000).
Juliet is the daughter of immigrants from South Korea. A Next Generation Fellow of the American Assembly, Juliet is a graduate of both the American Express Non-Profit Leadership Academy and Harvard National Preparedness Leadership Initiative. She received her law school's Alumni Association Award for Leadership and Character (2003) and Rising Star Alumnus Award (2009). A certified mediator, she served as a judicial law clerk to the Honorable Dennis M. Sweeney (retired) of the Circuit Court for Howard County, Maryland (2003-2004).
Juliet received her bachelor's degree in economics from the University of Virginia and law degree from the University of Maryland School of Law.