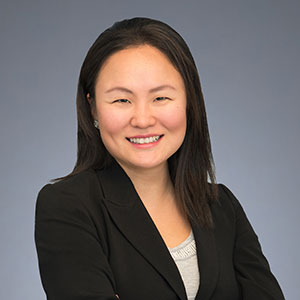 Location: Washington, DC Metro
Jessica Lee
Interim Executive Director
Council of Korean Americans
Jessica Lee is the Interim Executive Director at the Council of Korean Americans (CKA). Jessica works with the board of directors, membership, and staff to ensure that CKA is asserting a strong, clear voice for Korean Americans while helping them to engage in American society to achieve meaningful success.
Jessica is a seasoned foreign policy professional with ten years of experience working in Washington, DC. Under Jessica's leadership, CKA significantly expanded its presence on Capitol Hill, White House and the State Department. Since joining CKA in 2016 as its first Director of Policy and Advocacy, Jessica developed new partnerships with major think tanks, foundations, and community-based organizations throughout the country and organized two successful CKA National Summit & Gala at the Ronald Reagan Building and International Trade Center. Jessica is an expert commentator in the media on Korean American issues, Congress, and foreign policy.
In 2016, Jessica successfully launched CKA's premier scholarship and leadership training program for college students called Public Service Internship Program, which tripled in size and expanded to two cities in two years.
Prior to joining CKA, Jessica was a Resident Fellow at the Pacific Forum CSIS in Honolulu, HI, where she published articles on security and economic relations in East Asia. She was previously a senior manager at The Asia Group, LLC, a strategy and capital advisory firm, as well as its first chief philanthropy officer. Prior to The Asia Group, Jessica served as a staff member in the House of Representatives for six years, first as a professional staff member handling the Asia portfolio for the chairman of the House Committee on Foreign Affairs and as a senior legislative assistant on foreign policy and trade issues for a member of Congress on the Ways and Means Committee.
Jessica received a B.A. in political science from Wellesley College and a A.M. in East Asian regional studies from Harvard University. Jessica is a Truman Security Fellow, a David Rockefeller Fellow of the Trilateral Commission​, and a Google Next Gen Policy Leader​. Jessica has advanced proficiency in Korean and lives in northern Virginia with her husband and daughter.
Media Appearances
BBC World News Interview with Interim ED Jessica Lee
June 10, 2018
BBC World News
Interim Executive Director Jessica Lee analyzes upcoming Trump-Kim Summit in Singapore and possibility of denuclearization of the Korean Peninsula.
Why Did Trump Cancel Summit With North Korea?
May 24, 2018
Newsweek
Interim Executive Director Jessica Lee discusses next steps following Trump's decision to pull out of summit meeting with North Korea.
Doubts grow over Trump-Kim summit
May 22, 2018
The Hill
President Trump's plans for nuclear summit with North Korea thrown into doubt after meeting with South Korean President Moon Jae-in.
BBC World News Interview with Interim ED Jessica Lee
May 22, 2018
BBC World News
Interim Executive Director Jessica Lee discusses upcoming Trump-Kim Summit in Singapore and what means for the Korean American community who wants peace in the Korean Peninsula.
Hostages No Longer, Meet The Three Americans Freed From North Korea
May 10, 2018
Ozy Magazine
All three men were freed after Secretary of State Mike Pompeo met with North Korean leader Kim Jong Un ahead of a planned summit to discuss the country's nuclear weapons program.
What does the release of 3 American Detainees Mean for U.S.-North Korean Relations
May 9, 2018
CBS News
Secretary of State Mike Pompeo returns with three U.S. citizens detainees leading up to anticipated Trump-Kim Summit.
North Korea will not seek withdrawal of US forces in return for denuclearisation, says South's Moon Jae In
April 19, 2018
The Strait Times
A successful inter-Korean summit hinges on North Korea's willingness not only to promise to give up nuclear weapons, but also to allow inspections on its nuclear arsenal and test sites.
Where Political And Economic Instability Is Making Tuberculosis A Growing Public Health Threat
March 26, 2018
Forbes
The Global Fund's decision to discontinue funding for fighting tuberculosis in North Korea begs the question of whether humanitarian aid is being politicized.
'Denuclearization' may be the goal of U.S.-North Korean summit, but each side defines it differently
March 14, 2018
Washington Post
'Denuclearization' may be the goal of U.S.-North Korean summit, but each side defines it differently. What do we mean when we talk about denuclearization?
BBC World News – Jessica Lee Discusses Rex Tillerson Departure and Trump-Kim Summit
​March 13, 2018
​BBC World News
What​ is the impact of Secretary Rex Tillerson's departure ​from the State Department ​and how ​might ​Seoul perceive it?​ Will it have a negative impact on ​the Trump-Kim summit?
The Heat: Olympics diplomacy on display at the 2018 Winter Olympics in PyeongChang
February 26, 2018
China Global TV Network (CGTN) America
Have the Winter Olympics opened the door to resolving the Korean nuclear crisis? As the Winter Olympics drew to a close in PyeongChang over the weekend, some are suggesting that diplomacy may have won gold.
I'm a Korean American. Why Is Trump Questioning How American I Am?
January 17, 2018
Fortune
The recent story of President Donald Trump reportedly asking a Korean American intelligence officer where her "people" were from is all too familiar to me.
Jessica Lee discusses Vancouver conference on DPRK
January 16, 2018
China Global TV Network (CGTN) America
Top envoys and senior officials from 20 nations gathered in Vancouver, Canada to discuss how to curb the DPRK's nuclear ambitions.
Beyond Korean Americans: Growing Concerns Among Americans about War with North Korea
December 5, 2017
Truman National Security Project
Despite what some may say, war in the Korean Peninsula is not inevitable.
Trump in Asia: No, South Korea is not just 'over there' 
November 7, 2017
USA Today
Korean and American lives are not acceptable casualties. While in Seoul, the president should de-escalate tension with North Korea.
Uncertainty for Korean Americans as Rhetoric Between Trump and Kim Jong-Un Escalates
October 15, 2017
Pavement Pieces
A war of words has erupted between President Donald Trump and North Korean leader Kim Jong-un.
The war that never ended: families separated by the Korean War
October 12, 2017
Medium
Last Saturday, President Donald Trump tweeted that "only one thing will work" in dealing with North Korea.
The Cyberwarfare Capability of North Korea
September 18, 2017
WashingTECH Policy Podcast
For decades, policymakers, journalists and the media have discussed, prevented, and continued to assess North Korea's nuclear capabilities.
North Korea Rhetoric Has DC Residents Worried
August 9, 2017
NBC 4 Washington, DC
Korean Americans and others who have relatives in Guam, North Korea and South Korea say the rising tensions between the U.S. and North Korea are troubling.
North Korea Capable of Compact Nuclear Warhead
August 9, 2017
KQED Radio
Reports surfaced Tuesday that U.S. intelligence officials believe North Korea has produced a miniaturized nuclear warhead.