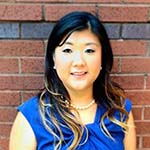 Location: Los Angeles
Member Since: 2018
Membership Type: Associate
Hannah Cho
Senior Field Representative
Office Of Senator Holly J. Mitchell
Hannah Cho is the Senior Field Representative for California State Senator Holly Mitchell (D-30). In this role, she oversees the district's issue areas of health, public transportation, and technology. She also operates as Senator Mitchell's liaison for the western portion of the district. Hannah has worked on numerous state and federal campaigns including President Obama's 2008 presidential campaign.
Besides her political involvement, Hannah has worked for many years in the nonprofit sector. She has worked on policy initiatives, programming, and advocacy with organizations such as the Dr. Martin Luther King, Jr. Center for Nonviolent Social Change, Operation HOPE, CARE, Model UN, the Clean AIr Campaign, and the US National Park Service.
Hannah currently serves as an Executive Board Member of the Asian Pacific Islander Caucus of the California Democratic Party. She completed graduate coursework for her Master's in Political Science and has a Bachelor's degree in Political Science, and minors in Hospitality and Non-Profit Management from Georgia State University. Hannah is a member of the American Political Science Association and Pi Sigma Alpha, the Political Science Honor Society.