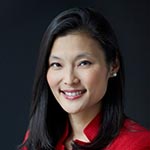 Location: Washington, DC Metro
Member Since: 2012
Membership Type: Full
Esther Lee
CEO
Refraction
Esther Lee is Co-Founder and former Vice Chair of the Council of Korean Americans. She was formerly Executive Director of Generosity at McLean Bible Church, one of the largest churches in the U.S. Previously, she was Global Chief Marketing and New Business Officer at Burson-Marsteller, a leading global public relations and communications firm. In that role, she was on the firm's Executive Committee and led the marketing and new business teams.
Esther also served as a Presidential appointee in the Obama Administration. As Senior Policy Adviser to the U.S. Secretary of Commerce, she created and led the Office of Innovation and Entrepreneurship and the National Advisory Council on Innovation and Entrepreneurship, co-chaired by AOL founder Steve Case. She also helped launch the White House "Startup America" initiative and organize the Presidential Summit on Entrepreneurship.
Esther has also held senior roles at Time Warner, AOL, and CNN. She received an A.B. in economics from Harvard and an MBA from MIT's Sloan School of Management. She lives with her family in northern Virginia.