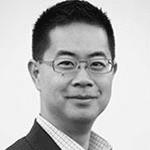 Ricky Choi
Global Medical Director,
Samsung Electronics
Location: South Korea
Member Since: 2014
Ricky Y. Choi, MD, MPH is the Global Medical Director of Samsung Electronics. He is one of the first American physicians to join Samsung Electronics' global headquarters in Korea. In this role he drives strategic partnerships for Samsung Health and provides thought leadership in the health and wellness domains. His expertise includes mobile health, telehealth, health policy, electronic health records, and social media.
Previous to this role he practiced medicine for eight years in a number of clinical positions including as the Department Head of Pediatrics at Asian Health Services Community Health Center in Oakland, CA, as a clinical instructor at the University of California, San Francisco and at Kaiser Permanente. He has past involvement with a number of startups and is a Co-Founder of HealthBegins, a nonprofit think-and-do tank that demonstrates how smart medicine starts upstream. He has held multiple national physician leadership roles for many years including the Board of Directors for the National Physicians Alliance and as the inaugural Chair of the Immigrant Child Health Group for the American Academy of Pediatrics.
Dr. Choi has past appointments to advisory councils of the California State Health and Human Services Agency in the areas of multicultural health, care for children with special health care needs, and pediatric health care quality. He is a past blogger for SFGate and his writing can been seen in the Huffington Post. Dr. Choi has degrees from The University of Chicago, Medical University of South Carolina, Harvard University and completed his internship and pediatric residency training at the University of California, San Francisco. He is a past Fellow of the California HealthCare Foundation Health Care Leadership Program.