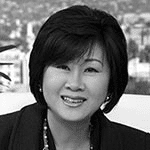 Joanne Kim
President and CEO,
CBB Bank
Location: Los Angeles
Member Since: 2015
Joanne Kim has served as President and Chief Executive Officer of CBB Bank since April 2011. Ms. Kim previously served as President, Chief Executive Officer and Director of Wilshire State Bank and its holding company.
Prior to her appointment as President and Chief Executive Officer of the Wilshire State Bank, she has served as Executive Vice President and Chief Lending Officer of Wilshire Bancorp. Previously, Ms. Kim served as Senior Vice President and Branch Manager of Hanmi Bank until 1999. Ms. Kim holds a B.A. degree from Korea University.
Under Kim's leadership she has grown CBB from a bank that focused primarily on the banking needs of the Korean American community in Los Angeles to serving other communities throughout Southern California, including the Iranian community in Beverly Hills and a wide range of diverse businesses in the San Fernando Valley and in neighboring Orange County. CBB also has a special outreach program for disabled veterans, and has been recognized by the California Disabled Veteran Business Alliance for its leadership in lending to veterans.
Kim's special interest in veterans stems from her own background and experience. Kim's parents fled North Korea in the winter of 1951, during the Korean War, and she credits American servicemen and women as the reason for both her family's survival and her own success. Her son also serves as a US Army doctor in Hawaii.