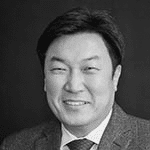 Gun Shim
Vice President, Supply Chain Management,
Pacific Gas and Electric Company
Location: San Francisco Bay Area
Member Since: 2014
Gun Shim is Vice President of Supply Chain Management for Pacific Gas and Electric Company (PG&E). He is responsible for PG&E's Supply Chain strategies, policies and standards. Supply Chain is responsible for sourcing, enhancing supplier relationships, materials and warehouse management, logistics, inventory management, supplier quality, and sustainability. Shim has over 25 years of supply chain and procurement experience.
Before joining PG&E in September 2009, he was the Vice President, Procurement with T-Mobile USA. Prior to this role, Shim spent over 17 years with SBC Communications, now AT&T, where he held various vice president positions within supply chain. At SBC, Shim was one of the leaders who led supply chain merger integrations which included some of the largest mergers at that time. He was also a principal owner of GS and Company that provided project management and strategic sourcing solutions. As a principal partner, Shim specialized in raising venture capital for web-enabled buying portals and forming consortium buying groups targeted at specific categories.
Shim holds a bachelor's degree in political science. He has served on multiple boards as Chair, Vice Chair, and as an Advisory Board member.