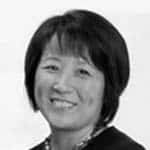 Christina Yoon
Vice President,
Campbell & Company
Location: Washington, DC
Member Since: 2012
Christina Yoon is Vice President of Campbell & Company, a national consulting firm that specializes in fundraising and development for larger institutional nonprofits. The firm is headquartered in Chicago, but Christina works out of their DC office.
Prior to her role at Campbell, she had a solo consulting practice as founder and principal of Yoon Consulting, a nonprofit management practice specializing in fund development, board development, and strategic planning. She worked with a wide range of organizations, from small to mid-sized community-based nonprofits to large academic and health care institutions. Her clients included education, youth development, medical research, faith-based and immigrant-serving organizations. Just before launching her own consulting practice, Tina was the Development Practice Leader at Management Consulting Services in Boston.
From 2011-2012, Tina served as the Council of Korean Americans' first Executive Director (interim), helping to launch the organization and shepherding it through its first two national events, the White House Briefing for Korean American Leaders in Washington, DC, and the Career Pathways Mentoring Conference at Stanford University.
Although originally educated as a scientist, she transitioned into the nonprofit sector first as a Senior Liaison Officer at the MIT Office of Corporate Relations and then as a Development Officer for a capital campaign that led to a $100M gift to establish The David H. Koch Institute for Integrative Cancer Research at MIT.
Tina was elected as a delegate to the 2008 Democratic National Convention representing the state of Massachusetts to nominate Barack Obama. In 2012 she was a founding member of Korean Americans for Obama, helping to mobilize the Korean American community to re-elect President Obama.
Tina obtained a B.S. in molecular biophysics and biochemistry from Yale, cum laude, a Ph.D. in biology from MIT as a National Science Foundation Pre-doctoral Fellow, and worked as a researcher at Pfizer for several years before fully realizing her passion for working with mission-driven nonprofit organizations. She resides in Vienna, VA with her husband and two children.